noticia
In early April 2016, Maretec – Marine Environment and Technology Center generated some model trajectories of where the mini boat Crimson Voyager might land, and prepared a rescue team. The boat was rescued near the andalusian coast of Cadiz by members of the group Centro Andaluz de Ciencia y Tecnología Marinas – Cacytmar of the Universidad de Cádiz.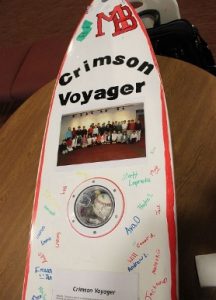 Os enviamos una interesante mención del Cacytmar/Inmar por parte del
por la colaboración en el mini boat Crimson Voyager:
https://www.facebook.com/maretec.ist/
http://educationalpassages.com/boats/crimson-voyager#.VzmQtL6uqJ9 
Os invitamos a visitar nuestro Facebook para compartir la información.
Crimson Voyager
The mighty Crimson Voyager, another boat from the 6th grade class at the Morristown-Beard School in New Jersey, was deployed off a freighter headed to Bermuda a few days after Christmas 2015.
The stories of its preparation and the fate of their previous boats can be seen here. The track of its journey can be seen here.
In early April 2016, we heard from our Portuguese friends, Hilda de Pablo (Marine, Environmental and Technology Center – Instituto Superior Técnico), Rachel Costa (Task Group for the Extension of the Continental Shelf – Ministry of the sea), and Luis Sebastião  (Institute for Systems and Robotics ISR – Instituto Superior Técnico) who reported: "we have been looking at Crimson Voyager 'invasion' of our territory :)",  generated some model trajectories of where the boat might land, and prepared a rescue team.  Sure enough,  a few weeks later (17 April 2016), we were very excited to heard back from them as follows:
"It is with great enthusiasm that we share with you that Crimson Voyager was rescued this morning at the Bay of Cadiz by a Spanish wonderful team!. Shortly after knowing the last GPS position (5:50 a.m. GMT) we sent the position and just over an hour later the team rescued the little boat! Luis, Hilda and I watched Crimson since she approached the Iberian Peninsula. She passed at 20 NM near the Portuguese coast and Luís had put a rescue team in stand-by for three days, but Crimson wanted to continue her journey and explore a little bit of the Mediterranean 'gate'…so we decided to look for someone to take care of her in Spain. Hilda activated her contacts and could easily found a great and enthusiastic team of Cadiz University. During this days Hilda used the MOHID numerical model for the Portuguese Coast to get more information. The model calculated the possible trajectory of Crimson during the periods in which we had no information. With the relative position Luís and Hilda discussed and drew the rescue plan ( two times! when Crimson passed near Cascais and yesterday ). We are glad to be a part of this new story that Educational Passages promotes, as always. Once again those little boats connected new people, created new stories and Educational Passages reached another region of our planet approaching the two sides of the Atlantic. We are very happy to participate in another charming episode, this time with Crimson Voyager! We are also very excited for having another little boat to participate in the transatlantic regatta. Now it's time to present her to Andaluzia children and engage them to take part in Crimson's story new episode like we are doing with our little boats… it's amazing how children embrasse this projet, we will see that happens in Andaluzia."
After traveling a total distance of over 10000 kilometers at an average speed of approximately 100 cm/s (~two knots), it is now in the hands of the heroic rescuers, Miguel Bruno, Miriam Hampel, Marina Bolado Penagos and Juan Jesús Gomiz Pascual(Center for Marine Sciences and Technologies http://cacytmar.uca.es/) with the latter two shown on the dock in the picture below. They reported their rescue at 36º 47′ 45.18" N – 6º 44′ 41.12" W at local time: 8:20 – 6:20 GMT.