noticia
Noticias Cacytmar/Inmar: DEFENSA TESIS DOCTORAL jueves día 30 de junio, Tomás Fernández Montblanc "STUDY OF THE INFLUENCE OF PHYSICAL, CHEMICAL AND BIOLOGICAL CONDITIONS IN THE DAMAGE AND PROTECTION OF UNDERWATER HISTORICAL HERITAGE"
28 June 2016
El jueves día 30 de junio, el D. Tomás Fernández Montblanc procederá a la defensa de la Tesis Doctoral "STUDY OF THE INFLUENCE OF PHYSICAL, CHEMICAL AND BIOLOGICAL CONDITIONS IN THE DAMAGE AND PROTECTION OF UNDERWATER HISTORICAL HERITAGE"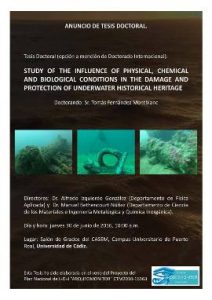 JUNIO SE DESPIDE CON UNA TESIS DOCTORAL
El jueves día 30 de junio, el D. Tomás Fernández Montblanc procederá a la defensa de la Tesis Doctoral "STUDY OF THE INFLUENCE OF PHYSICAL, CHEMICAL AND BIOLOGICAL CONDITIONS IN THE DAMAGE AND PROTECTION OF UNDERWATER HISTORICAL HERITAGE" para optar a la mención de Doctorado Internacional.
Esta Tesis ha sido dirigida por el Dr. Alfredo Izquierdo González (Departamento de Física Aplicada) y el Dr. Manuel Bethencourt Núñez (Departamento de Ciencia de los Materiales e Ingeniería Metalúrgica y Química Inorgánica), y elaborada en el seno del Proyecto del Plan Nacional de I+D+I "ARQUEOMONITOR" CTM2010-16363.
Lugar: Salón de Grados. Hora: 10:00.
Enhorabuena a todos.