noticia
La UCA recibe la visita de una delegación rusa de profesores dentro del proyecto Tempus eMaris
24 April 2012
Los docentes proceden de la Russian State Hydrometeorological University', del 'Institute of Oceanology' de la 'Russian Academy of Sciences' y de la 'Marine Technical University'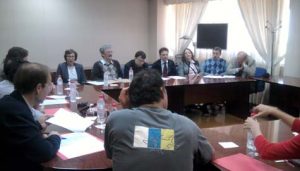 La Universidad de Cádiz  acoge esta semana una delegación de profesores procedentes de la 'Russian State Hydrometeorological University', del 'Institute of Oceanology' de la 'Russian Academy of Sciences' y de la 'Marine Technical University' en el seno de un proyecto Tempus eMaris.
El decano de la Facultad de Ciencias del Mar y Ambientales, José María Quiroga, y el director General de Relaciones Internacionales de la UCA, Juan Carlos García Galindo, han dado la bienvenida a la delegación rusa en la jornada de apertura. Además, han intervenido el coordinador del proyecto el catedrático Angel del Valls Casillas, así como el responsable del Aula Universitaria Hispano-Rusa, Andrés Santana, que colabora activamente en el proyecto. Durante las jornadas, se han presentado los diferentes planes de estudios de la Facultad de grado, master y doctorado, incluyendo el programa Erasmus Mundus.
En este sentido, se ha contado con la presencia de los coordinadores de estos programas, así como con la presencia del director del CACYTMAR, Miguel Bruno, con representantes del CEIMAR y con el anterior decano, Rafael Mañanes Salinas. Asimismo, un grupo de profesores de dicha facultad han presentado diferentes actividades académicas y de investigación de nuestra Universidad. En la agenda de trabajo programada para esta semana se han incluido visitas a la Planta de Cultivos Marinos, las instalaciones del CACYTMAR o la Biblioteca del Campus de Puerto Real.
Estas jornadas que se están desarrollando durante toda la semana servirán para presentar los estudios que actualmente se imparten en la Facultad de Ciencias del Mar y Ambientales (grados, dobles grados, másteres y doctorados) y resolver las dudas que puedan tener al respecto los profesores visitantes, ya que la UCA será tomada como ejemplo de buenas prácticas para la implantación y desarrollo en la Federación Rusa de similares titulaciones en su país. Es de esperar que, además, servirán para reforzar las relaciones de la UCA con diferentes instituciones y universidades rusas.